The Holiday Special here at Science Envy will include quite a few 3D printed objects. Some libraries, schools, and pretty much all maker spaces have 3D printers. You can also buy your own; perhaps as a nice holiday gift for yourself…?
No matter what your motivation is for buying a 3D printer, it is important to make an informed decision. 3D printer manufacturers are popping up as mushrooms after a rain storm, but not all printers are created equal. 3D printers range from a few hundred dollars to many thousands of dollars. Some of them work great, others not so great. While higher price sometimes mean higher quality, it is not always the case. Make Magazine has reviewed 38 (!) different printers ranging from $349 to $3 975, and you will find their 3D Printer Buyer's Guide here or by clicking the image below.

Number 2 in the ranking is the printer model that I personally own: LulzBot TAZ 5. My husband Bill and I bought it as a holiday gift for ourselves in 2015. Being a bit frugal, we chose to buy it refurbished instead of brand new, which saved us a few hundred dollars. We bought ours from IT-Works in Loveland, Colorado USA, and you can see what printers they currently have for sale here.  IT-Works also sells brand new LulzBot printers. Another reason that I chose the LulzBot printer is because it is made in Colorado, just an hour north of my home. However, while the LulzBot printers are very high quality and very reliable, they are fairly expensive. There are drastically cheaper alternatives in Make Magazines Buyer's Guide.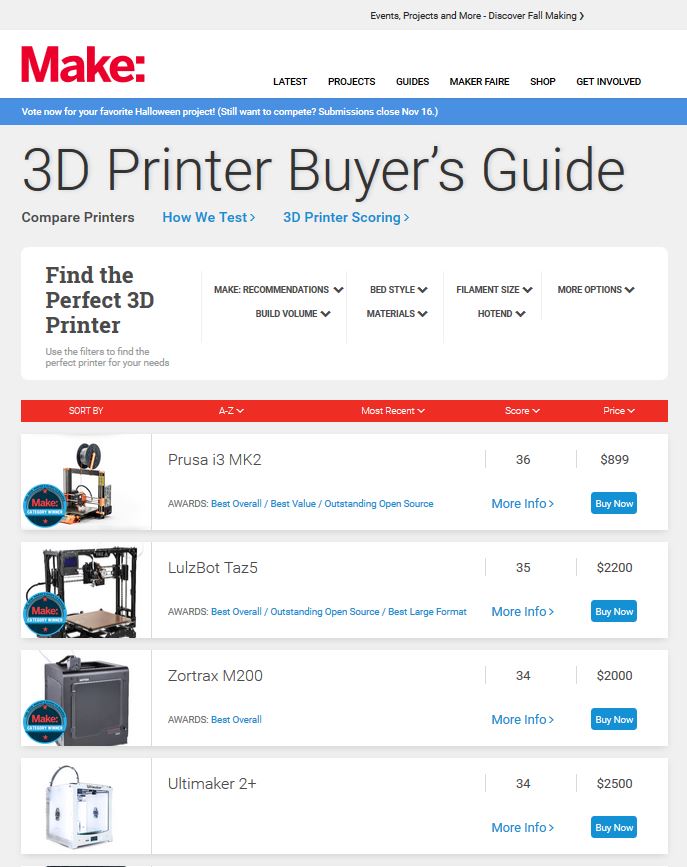 Note: I am not affiliated or sponsored by any of these 3D printer manufactures, neither do I receive any monetary benefit from their sales.