KillaJoule is the world's fastest electric motorcycle with a top speed of 270 mph (434 km/h) so far. Builder, owner, and rider is Eva Håkansson.

The only purpose of this 19 ft. (5.6 meter), 400 HP, sleek motorcycle is to show that eco-friendly can be fast and enviable. You can read the entire story how KillaJoule came to be here.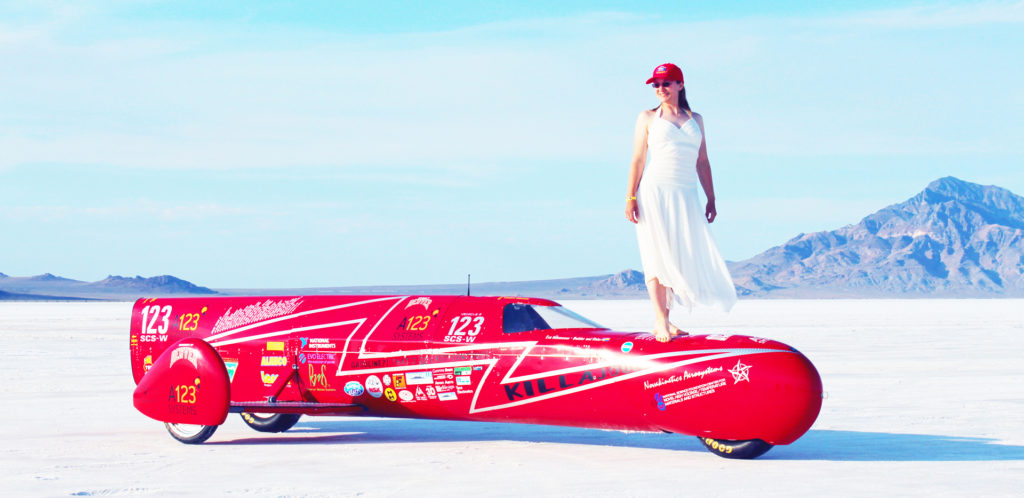 The KillaJoule may look complicated, but if you think about it, it is just a giant cordless drill with wheels! It has a battery  with the same kind lithium-ion chemistry that you will find in cordless tools, a motor, some power electronics and a throttle. And wheels, of course. Except for the wheels, it is pretty much the same components in as in a cordless drill. A 400 horsepower cordless drill….. 😉
The picture below shows all the majors parts of the KillaJoule. Click on the photo for a larger picture.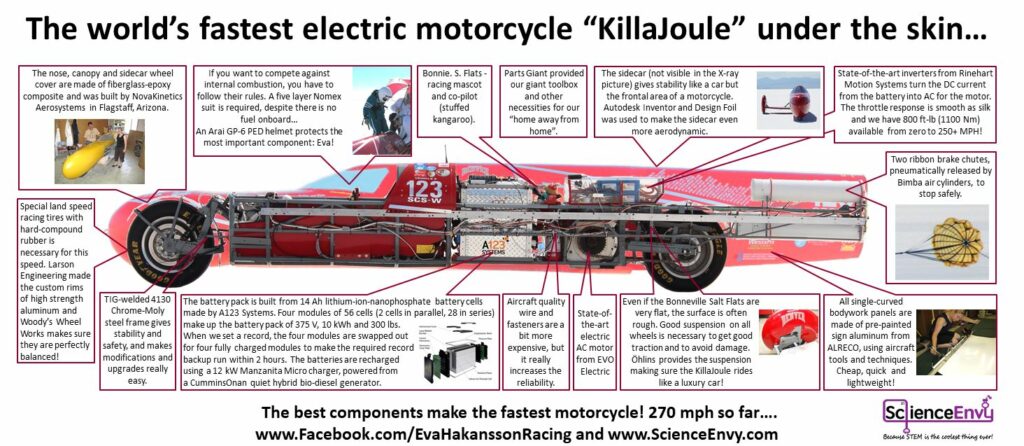 Technical Data for the KillaJoule
Battery: A123Systems Lithium Nano-Phosphate, 400 V and 10 kWh. 500+ HP.
Motor: EVO Electric AFM-240 motor, 500 HP.
Motor controllers: Two Rinehart Motion Systems PM100 controllers, 400 HP combined.
Weight: about 1540 lb. (700 kg) including the rider Eva Håkansson
Dimensions: Length 19 ft (5.6 m), width appr. 21 inches (0.53 m), height appr. 38 inches (0.96 m), wheelbase 150 inches (3.8 m), track width when fitted with sidecar 45 inches (1.14 m)
Frame and suspension: Chrome-Moly steel tubing with "Springer" style front end and classic stereo suspension for rear end.
Brakes: Disc brakes front and back. Two Kevlar ribbon brake parachute, actuated with Bimba air cylinders.
Body: Fiberglass composite nosecone, canopy and sidecar wheel cover made by Nova Kinetics Aerosystems in Flagstaff, AZ. Body panels of pre-painted aluminum from ALRECO.
Rider, builder, designer and owner: Eva Håkansson
Crew chief, designer and owner: Bill Dubé
Senior adviser and designer of the suspension: Sven Håkansson
Pit crew: Mike Stockert, Alicia Kelly, Kent Singleton, and Steve Lovell.
Current record (as of August 2016): World's fastest electric motorcycle and the world's fastest sidecar motorcycle @ 248.746 mph (400.2 km/h) (pending FIM ratification). Complete list of records here. It is also the world's 4th fastest battery-powered vehicle (higher records were set by the cars White Lightning and Buckeye Bullet 1 and 2.5).
Registered top speed: Currently 270.224 mph (as of September 2014).
"Fuel": The battery in KillaJoule is recharged using solar power at home in Colorado, or by a hybrid quiet bio-diesel powered generator from CumminsOnan at the race track. We would love to use solar panels at the track, but we can't afford it…
—————-
Don't forget to check out our great PARTNERS that made KillaJoule possible.
Follow me on my Facebook page www.facebook.com/EvaHakanssonRacing
You will find VIDEOS of Eva and the KillaJoule here
Do you want your name on the KillaJoule?
Yes, you can get your name or logo on the KillaJoule (or Green Envy, or both). Check out your options here.