If you have the chance, make sure to learn a bit of electronics! Even if you are not planning to become an electrical engineer, it is a very useful skill. Electronics may appear intimidating and complicated, but if you start with easy projects, you will learn quickly and realize how much fun it is.
If you have never done any electronics project, a perfect place to start is with Arduino. Arduino is a open-source, open-hardware electronics platform (also known as a micro controller or embedded system). It is very inexpensive and quick to learn. Arduino boards are able to read inputs – light on a sensor, a finger on a button, or a Twitter message – and turn it into an output – activating a motor, turning on an LED, publishing something online. You can tell your board what to do by sending a set of instructions to the micro controller on the board. You can read more about Arduino at https://www.arduino.cc/en/Guide/Introduction. An Arduino board itself typically cost around US$ 20, but you can of course spend almost any amount of money on accessories, sensors, displays and a million other things.
Arduino isn't  just for toy projects, there are lots of uses for Arduino micro controllers. For example, many – if not most – consumer level style 3D printers have Arduino micro controllers at their core. The KillaJoule speedometer is another application, it uses an Arduino Nano board to read the wheel speed and display it with an LED display in the cockpit.
"Arduino" is a kind of micro controller board but also a brand. There are many different manufacturers of Arduino boards, and they may be sold under another brand such as "RedBoard", "ATmega" or "Adafruit". They all do the same thing, it doesn't matter what brand you buy.
How to get started with Arduino?
If you have never done electronics before, buy a kit and buy a book! Adafruit and Sparkfun has many different kits, and so may your local hobby or tech store.
One of my favorite Arduino books may surprise you: Sylvia's Super-Awesome Project Book: Super-Simple Arduino! Don't let the cover fool you – this is a great book even for adults. It has all the basis about Arduino and coding your Arduino. I have given multiple copies as gifts, and they all agree – this is a great book. You can buy it at Adafruit or Amazon, or direct from

Where to buy electronics stuff?
Note to international buyers: Customs fees are calculated on the total declared value, not necessary the price you paid. I was hit with a substantial customs fee (US $100) because a free promotional gift pushed the declared value of some electronics components over US$ 275 and thus incurred customs fees in New Zealand, despite I had only paid US$ 250. The total customs fees (US$ 100), was 2.5 times the value of the promotional gift. If you are on the edge of the value where your country may charge customs fees, you might want to resist that last little item, even if it looks like a great deal.
Adafruit
Adafruit is a USA-based online store that has everything for your electronics project. And they have super-cute plush "electrical components". Adafruit's "Circuit Playground" is an educational section where kids (and adults!) can learn about electronics. https://www.adafruit.com/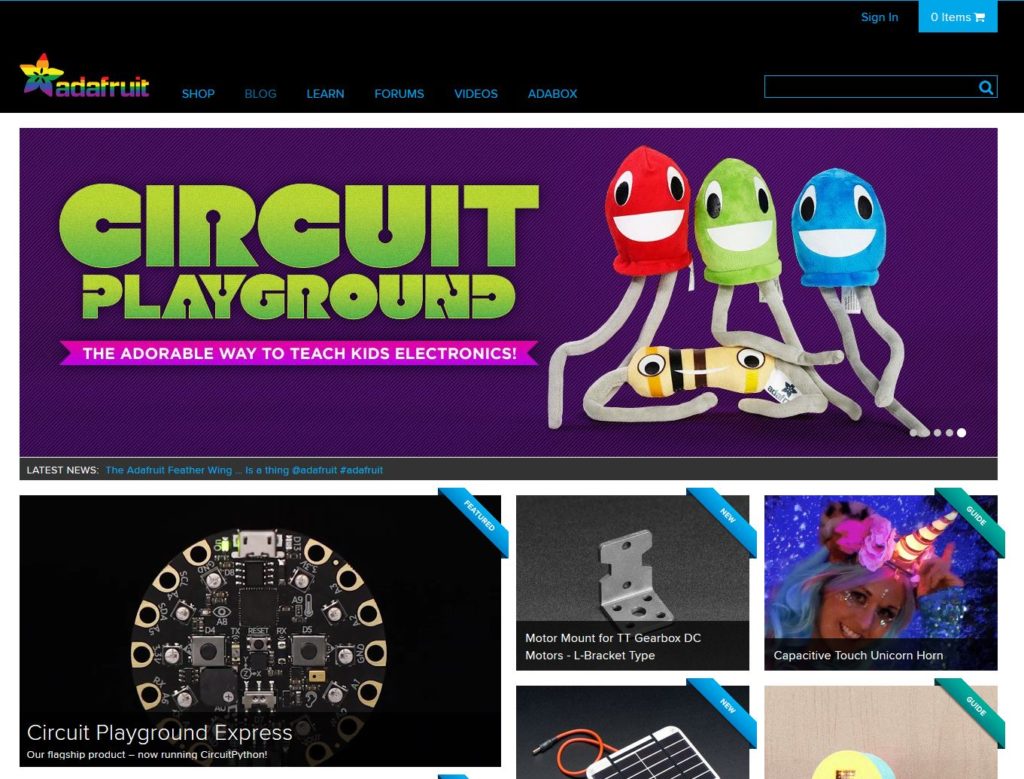 Sparkfun
Sparkfun is another great place to buy electronics. Based in Colorado, USA, but they ship to anywhere in the world. https://www.sparkfun.com/
DigiKey
If you know what you need, DigiKey will have it. One of the world's largest retailers of electronics, and they ship to every corner of the world. If you are new to electronics, this may be an intimidating place and you might want to consider Adafruit or SparkFun instead. You need to have a pretty good clue about what you are looking for to navigate this humongous catalogue. https://www.digikey.com/

---
Latest posts about How to Make Stuff
3D print your own Easter eggs!

March 8, 2016

DIY: Take professional quality photos of yourself!

August 5, 2016

Slo-mo MIG welding

August 8, 2016

3D-printed gear shifter knob!

September 8, 2016

3D printed dryer knobs!

September 23, 2016

The life of a Formula 1 bolt (from Red Bull Racing)

September 29, 2016

Racing-inspired gingerbread cookies

November 21, 2016

3D printed glow-in-dark turkey

November 26, 2016

3D printed C-clamps - handy for all your projects!

November 27, 2016

Under the skin - KillaJoule front end and suspension

June 2, 2018

3D printed sidecar skin

June 2, 2018

KillaJoule as "LEGO™"

June 8, 2018

A $200 3D printer - that works!

July 6, 2018

Articulated 3D prints - fun and easy!

July 12, 2018

Learn to code with "Scratch"

August 26, 2018

3D print your own designer handbag!

January 1, 2019

Download and 3D print your own designer handbag!

June 18, 2019