To build stuff, you need stuff! Here are some of the tricks I use to get the things I need for my projects.
FREE STUFF
There is nothing like free stuff! But to get free stuff takes some effort, and can take a whole lot of politeness, patience, and planning.
Build your own stockpile of useful stuff (but don't become a hoarder!)
The best free stuff is the stuff you already have, and likely is about to throw away. Before you dump anything in the trash bin or the recycling bin, stop for a moment. Look at the item. Can it be used for something else? Does it contain precious or useful material? However, don't save everything! If you save everything, no matter the value, you come a hoarder and soon you won't find anything in the ocean of stuff. To be useful and valuable, you have to keep your stockpile organized. I often say "I am a sorter, not a hoarder", referring to my (mostly) neatly organized collection of stuff.
If you are on a tight budget, use carefully selected boxes to store your stuff. Shoe boxes are great. Try use boxes of similar size, because that makes them stack easier. Clearly label the boxes. If you have some money to spare, get transparent plastic bins. They will last for many years, and you can easily see what's in them. Get only one, two or perhaps three different sizes so they can be neatly stacked.
My dad is the expert in stockpiling useful stuff. It is clear where my sorting-behavior comes from – his stuff is neatly sorted so he can easily find what he needs.
Material for paper craft – check the recycling bin!
I had a period when I loved to make greeting cards. Elaborate, hand crafted cards full of love and thought. Works of art (at least most of the time, sometimes even the best ideas fail). My mom still does this, but I have moved over to store bought or perhaps computer printed greeting cards due to time restraints (you got to focus on your most important projects!). Anyway, to make cards you need material. You can buy it in a hobby store and pay an arm and a leg for it, but what's the fun in that? It is much more fun to make cards from recycled and reused material. Boxes that has contained cosmetics or perfume often have beautiful print. Often metallic, and sometimes even holograms. If you can spare the room, flatten the box and add it to your stockpile. If you are really tight on space, cut out the best pieces and let the rest go to recycling. Save the cover from notebooks for card stock.
Textiles and fabric
If you like sewing, you need want to have a respectable collection of fabric. Second hand stores and thrift stores such as Salvation Army and Goodwill are great places to find fabric. Sometimes you score big and find rolls of brand new fabric that someone donated. The price tag is often a fraction of the new cost. If you only need smaller pieces of fabric, buy clothing and cut it up. The larger the size, the more fabric there is! Before you clean out your closet, first decide if the fabric can be used for another project. If not, give it to the thrift store (or sell it yourself, if it has enough value).
If the item is too worn or damaged in a way that cannot be repaired, consider cutting it into convenient size pieces for rags. You will need rags for all kinds of purposes – cleaning, polishing, wiping, etc.  You can never have too may rags. You may also want to remove buttons, zippers, and other items that can be reused. Chuck them all in an old shoe box, or neatly sort them in a compartment box (it is up to you how you want to organize your stockpile).
Ask businesses for leftovers
If you are brave and you have a relatively clear project in mind, you can walk in to businesses and ask if they have leftover material that you can get for your project. I have been somewhat successful in that. Businesses often throw away large amounts of trimmings, pieces of material that is too small or there is something wrong with it, and rejected products. Just remember to be polite and appreciative. If you send them a thank you note and a photo of your finished project, chances increase greatly that you might be able to get stuff again later. The younger you are, the better is your chance to get stuff from business, they typically like to support kids' projects.
Ask for free product samples
If you need a very specific component and you have a cool project, it is worth contacting the manufacturer or supplier and (politely!) ask for a free product sample. You may not get it, but you may also get it. Remember to send them a thank you note and a photo of your finished project.
Ask for sponsorship
Asking for sponsorship is similar to asking for a free product sample, but you are often after larger volumes. Getting sponsorship is really hard, but not impossible. Again, number one is to be polite. Describe your project clearly, but don't write pages after pages of text, no one will read it. It is much, much, much, much, much easier to get parts than money, so ask for parts unless you are a sponsorship pro and know how to get money (if you do, please tell me, I am hopeless in raising sponsorship money).
Tell them how they will benefit from your project, and how the world will benefit from your project. If you will expose your project on social media or your website, make sure to tell them that as well. Or if you are going to a Maker Faire or Science Show. Add the sponsors name or logo to the project, and remember to send them a thank you note and a photo of your finished project.
Dig through your parents' attic or basement
Another potential place to find free stuff is to dig through the attic or basement of your parents, grandparents or other relatives. If you ask nicely, they may be willing to part with useful stuff. As always, be polite and say thank you! If you find some really good material, perhaps there is also enough for Mother's Day or Father's Day gift, or something else that they would appreciate.
Free 3D designs
There are multiple large platforms where people share their 3D designs for free. Here are a couple of examples.
Thingiverse – the place to download (and upload!) 3D printed designs
Thingiverse is a place where people share their 3D designs. This is the perfect place to start your 3D printing adventure – download something simple for free and start printing. Thingiverse has both decorative designs and practical items, such as knobs for washing machines or iPhone holders, to mention just a few. https://www.thingiverse.com/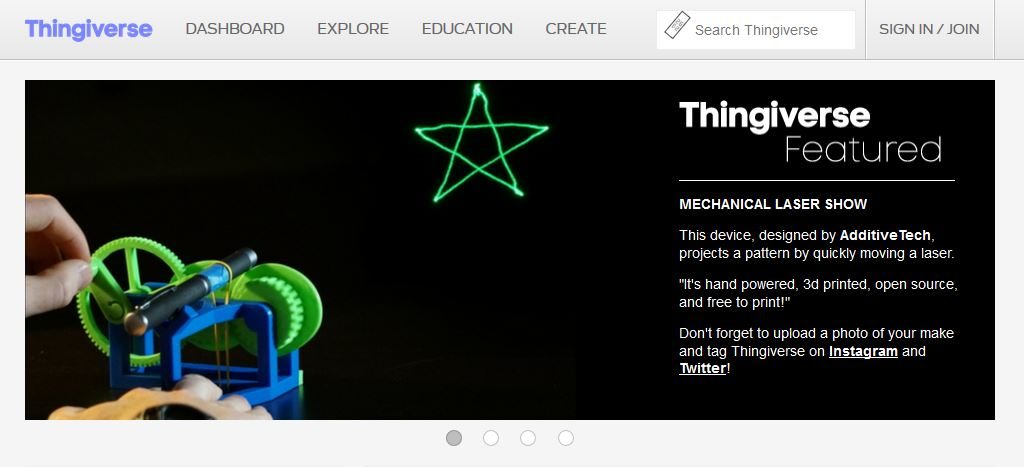 My Minifactory
My Minifactory is another place where people share their 3D designs. Both Thingiverse and My Minifactory has a system where you can "tip" or support the designer with a small monetary donation, if you want to. If you have a really popular design, you can actually make a little bit of money! https://www.myminifactory.com/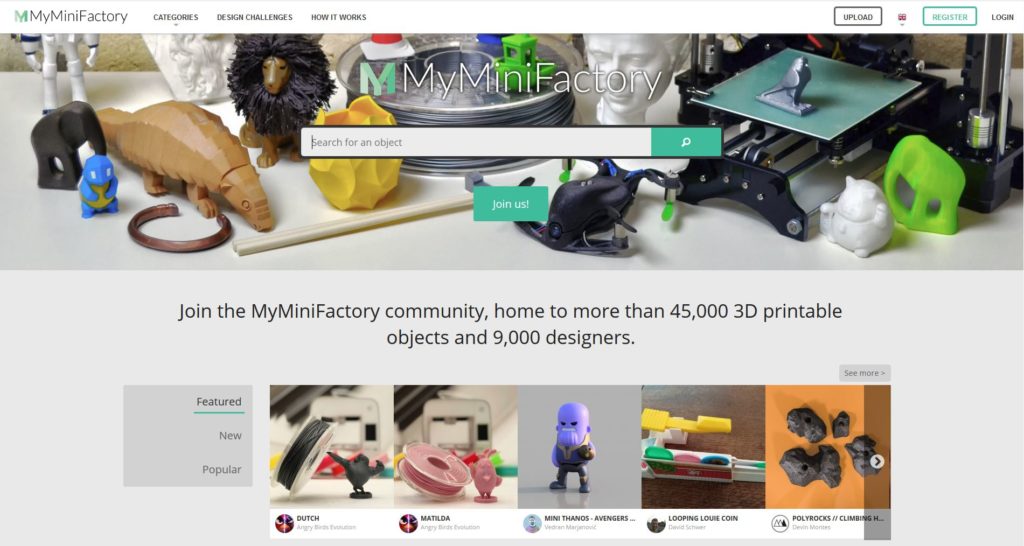 Free CAD files
GrabCAD has millions of free CAD files, and tons of CAD tutorials. I personally haven't been terribly successful in finding useful files, but other people swear by GrabCAD. Check it out for yourself at https://grabcad.com/.
Free software
Free CAD software
All3dp.com has listed the best 30 free CAD (Computer Aided Design) tools from beginner to advanced. You will find the list using the link below. I would also have liked to see my personal favorite Autodesk Inventor Professional listed because it is free for students and educators (more about Inventor below). https://all3dp.com/1/best-free-cad-software-2d-3d-cad-programs-design/

Autodesk – Free CAD and CFD software for student and educators
Autodesk provides a large number of free software packages for students and educator. My personal favorite CAD software Autodesk Inventor Professional is included in the student license, but also 3D animation software and CFD (Computational Fluid Dynamics). https://www.autodesk.com/education/home

WHERE TO BUY STUFF – GENERAL
Check out the thrift store
One of my favorite places to buy stuff is the thrift store. Thrift stores are typically run by charitable organizations such as the Red Cross or Salvation Army. They accept donations and then sell the items. The profit typically goes to social or environmental projects. Not only is this a way of getting cheap stuff, there is also a charitable benefit and a huge environmental benefit from reusing stuff that otherwise likely would have been thrown on a landfill.
Flea markets – a dying breed…
Way back when, flea markets were the place to find bargains. These days, flea markets are a dying breed in most countries. However, there may still be flea markets where you live. Check out the local newspaper or the search on the internet. Local organizations such a Lions or the sports club may have annual flea markets with great bargains!
eBay
eBay is my favorite place for almost anything! The U.S. is the largest market for eBay, but it exists in other countries as well.  https://www.ebay.com

There may also be similar buy-and-sell platforms in your country. For example, New Zealand has TradeMe and Sweden has Tradera.
Craigslist
Craigslist is a place to buy and sell stuff locally. You often, but not always, need to pick up the item yourself. While you can get great bargains, you need to be a bit careful when you decide to meet someone to finalize the sale; not all people are honest or friendly. Bring a friend, and don't go if it doesn't feel right. If something is too good to be true, it might not be true. But as long as you are careful, you can score some great bargains! http://craigslist.com/
AliExpress
AliExpress is the new up-and-coming sales platform taking the world with a storm. You can find any imaginable product here. https://www.aliexpress.com/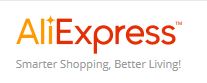 Amazon
No-one could have missed Amazon, one of the world's largest retailers. I personally particularly like that you can buy used books and other used items. The image below shows where to find used books. https://www.amazon.com/ 

3D PRINTING
You can buy 3D printing filament and other 3D printer related parts on the large platforms eBay, Amazon, and Ali Express. You can also often find filament in your local hobby store. While I like supporting local stores, the prices are sometimes high. If you are on a tight budget, it is worth looking around before you buy.
There are also dedicated 3D printing stores. I am mostly aware of the ones in the USA. If you have favorites from other countries (or the U.S.) that you want me to list here, send me an email.
Push Plastic – sells filament on spools up to 25 kg (55 lbs)! https://www.pushplastic.com/
IT Works 3D – Authorized retailer of LulzBot printers, lot of parts and filament http://itworks3d.com/
MatterHackers – every filament imaginable. https://www.matterhackers.com/
Chroma Strand – high quality PETG filament, made in Colorado, USA. https://www.chromastrandlabs.com/
LulzBot – great printer made in Loveland, Colorado, USA. I have one, check it out here.  https://www.lulzbot.com/
Prusa 3D – great, affordable 3D printer. I have one, check it out here. https://www.prusa3d.com/
Filamentive – sustainable filament, made in the UK. https://www.filamentive.com/
HARDWARE (nuts, bolts, etc.)
McMaster-Carr – every nut and bolt imaginable!
Huge selection of every nut and bolt you can imagine, and fast shipping. Not necessary the cheapest, but the website is easy to navigate. Unfortunately, McMaster-Carr only ships to within the USA. https://www.mcmaster.com/

ELECTRONICS
Note to international buyers: Customs fees are calculated on the total declared value, not necessary the price you paid. I was hit with a substantial customs fee (US $100) because a free promotional gift pushed the declared value of some electronics components over US$ 275 and thus incurred customs fees in New Zealand, despite I had only paid US$ 250. The total customs fees (US$ 100), was 2.5 times the value of the promotional gift. If you are on the edge of the value where your country may charge customs fees, you might want to resist that last little item, even if it looks like a great deal.
Sparkfun
Sparkfun is a great place to buy electronics. Based in Colorado, USA, but they ship to anywhere in the world. https://www.sparkfun.com/ 
Adafruit
Adafruit is another USA-based online store that has everything for your electronics project. And they have super-cute plush "electrical components". Adafruit's "Circuit Playground" is an educational section where kids (and adults!) can learn about electronics. https://www.adafruit.com/
DigiKey
If you know what you need, DigiKey will have it. One of the world's largest retailers of electronics, and they ship to every corner of the world. If you are new to electronics, this may be an intimidating place and you might want to consider Adafruit or SparkFun instead. You need to have a pretty good clue about what you are looking for to navigate this humongous catalogue. https://www.digikey.com/

METAL
ALRECO – aluminum heaven!
ALRECO in Henderson, Colorado, USA is the place to get new and reused aluminium/aluminum. Pretty much all of the aluminum in the KillaJoule was purchased here. You can find anything from small pieces priced per pound, to huge billets weighing literally tons. The pre-painted red aluminum used for KillaJoule's body work was bought here. So is the green pre-painted aluminum that will be used for Green Envy. The cover photo on the page is from my first visit to ALRECO, on a cold day in 2008.
ALRECO also ship if you can't make it to Colorado to pick it up. Call Bob at Phone number +1 (303) 287-7210 to get a quote or place an order.  Visit ALRECO at 11299 Brighton Rd, Henderson, CO 80640, USA.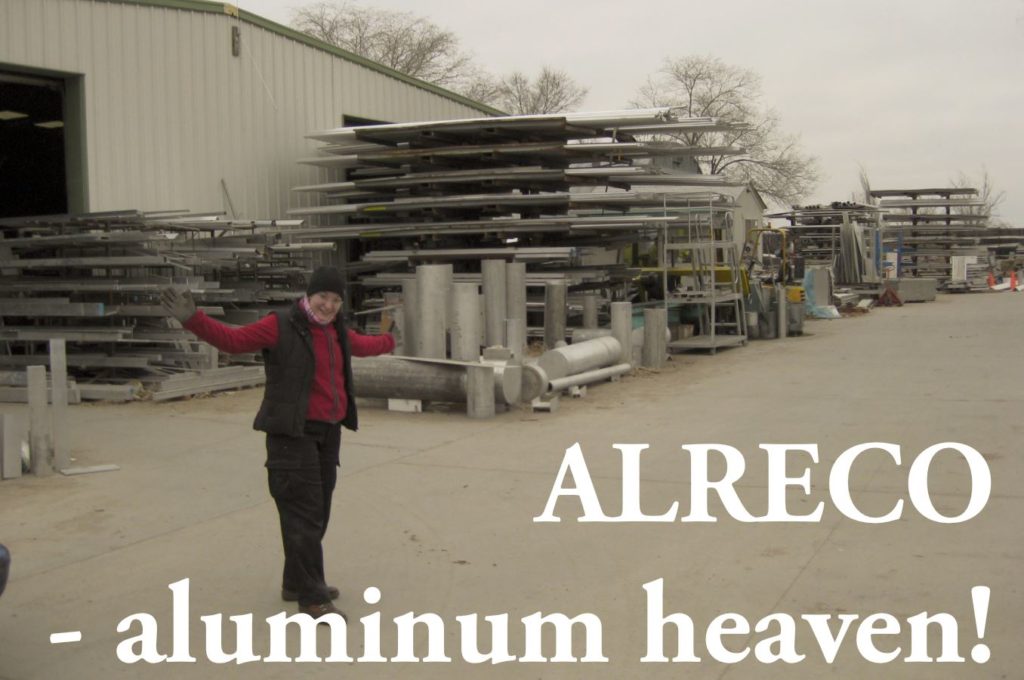 Scrap Palace
Based in Hamilton, New Zealand, Scrap Palace is the place to find bargains on metal (or to sell back the stuff you don't need anymore). The place can be a bit intimidating, but you may be amazed what you can find. http://www.scrappalace.co.nz/main.html
Cut 2 Size Metals
As the same says, Cut 2 Size Metals will cut your material to size and ship it to you. https://www.cut2sizemetals.com/

OnlineMetals.com
OnlineMetals.com is another great source for metal. https://www.onlinemetals.com/

---
Latest posts about How to Make Stuff
3D print your own Easter eggs!

March 8, 2016

DIY: Take professional quality photos of yourself!

August 5, 2016

Slo-mo MIG welding

August 8, 2016

3D-printed gear shifter knob!

September 8, 2016

3D printed dryer knobs!

September 23, 2016

The life of a Formula 1 bolt (from Red Bull Racing)

September 29, 2016

Racing-inspired gingerbread cookies

November 21, 2016

3D printed glow-in-dark turkey

November 26, 2016

3D printed C-clamps - handy for all your projects!

November 27, 2016

Under the skin - KillaJoule front end and suspension

June 2, 2018

3D printed sidecar skin

June 2, 2018

KillaJoule as "LEGO™"

June 8, 2018

A $200 3D printer - that works!

July 6, 2018

Articulated 3D prints - fun and easy!

July 12, 2018

Learn to code with "Scratch"

August 26, 2018

3D print your own designer handbag!

January 1, 2019

Download and 3D print your own designer handbag!

June 18, 2019